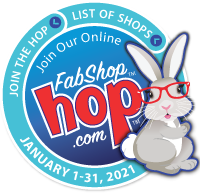 ✨ Thank you for visiting The Stitching Post! We are an independent quilt
fabric store, in southwestern Indiana, specializing in 100% cotton fabrics. We have MODA fabrics, such as Kansas Troubles, 3 Sisters & Primitive Gatherings. Also, you'll find Jo Morton, Batiks and Reproduction fabrics from the 19th century to 1930's and tons of FLANNELS & SOLIDS. Lots of Riley Blake, Timeless Treasures, Hoffman, and other fabrics can also be found in our store! We invite you to check them out as you browse through our site! Please bookmark The Stitching Post for future reference and check back often, as we add new fabrics frequently.

✨ THE STITCHING POST, WASHINGTON INDIANA, CONTINUES TO BE OPEN. WALK-IN CUSTOMERS ARE WELCOME TO BROWSE. OUR OPERATING HOURS ARE BACK TO OUR OLD NORMAL--10AM TO 5PM, EST, MONDAY THROUGH SATURDAY, CLOSED SUNDAYS.

✨ THE ONLINE CATALOG IS FUNCTIONING AND WE CONTINUE TO SHIP ORDERS. CURB SERVICE IS STILL AVAILABLE. CALL THE STITCHING POST AT 812-254-6063, IF YOU HAVE QUESTIONS.

* * * * * * * * * * * * * * * * * *

✨ HAPPY NEW YEAR!!! Can't believe we're already into the 3rd week of January!!! Hope 2021 improves on 2020. So far, everyone here at the Stitching Post has remained well. I hope that's your story as well. We wear our masks, wash our hands, do our 6 foot, social distancing thing, etc. We don't get out much any more, as most social activities have been canceled. I think we're all in the same boat.

✨ SOCIAL DISTANCING SALE

To help you keep busy while enduring your "stay at home" program, THE STITCHING POST ONLINE CATALOG is having a SOCIAL DISTANCING SALE. We just marked all of our SALE Categories down on January 8th. Now, we're taking 15% off our entire stock of Regular Priced Fabrics, even new additions. SALE starts NOW!!! The 15% will last through SUNDAY, JANUARY 24--9 BIG DAYS!!!

<>Please check out the Andover Jo Morton Fabric, now $7.70 a yard--still a good selection.

* * * * * * * * * * * * * * * * * *

✨ Ms. Bunny of the JANUARY 2021 FabShop Hop has gone home to the "FARMHOUSE" to meet her bunny cousins. Because it's turned cold, she's made all of her family "FLANNEL" PJ'S. The bunny family "GATHERINGS" are always very "PRIMITIVE." Of course, she and her family continue to social distance!

HAPPY NEW YEAR!!! STAY SAFE & BE KIND!!!

Mary Dell Memering
The Stitching Post
401 East Main Street -- Washington, IN 47501
(812) 254-6063 -- http://stitchingpostquilts.com


https://www.facebook.com/stitchingpostquilts


$8.00 FLAT RATE SHIPPING FEE FOR ALL US ORDERS! SMALL ORDERS SHIP FOR LESS.
EMAIL FOR INTERNATIONAL RATES!
The Stitching Post
401 E Main Street
Washington, Indiana 47501
812-254-6063
Store Hours: Monday thru Saturday 10-5 Eastern Time
Internet Hours: 24 hours a day, 7 days a week
---
Web Site Design & Programming by
Key to the Web,LLC ©